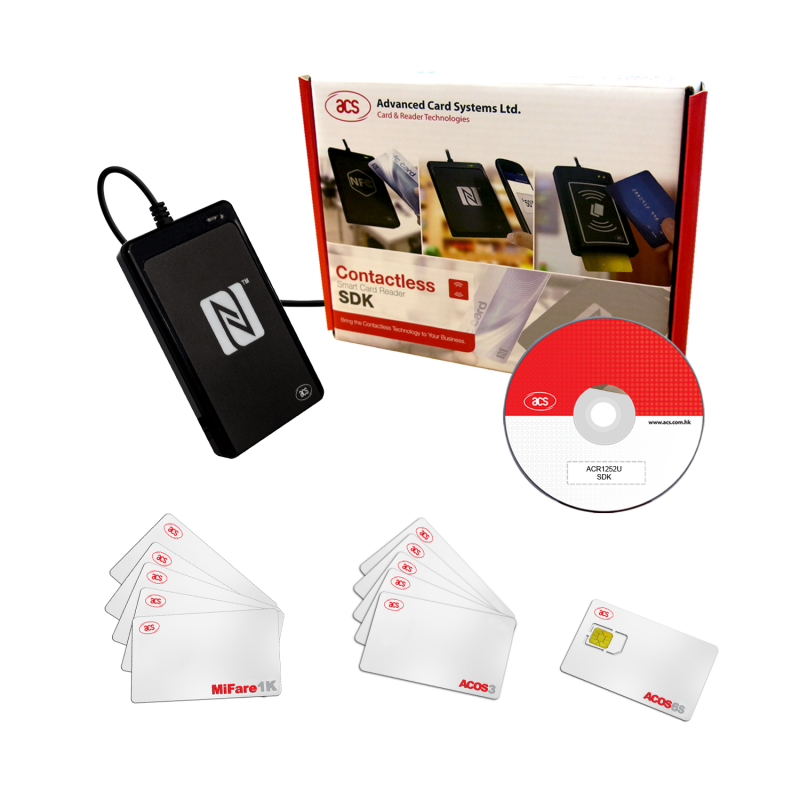  
ACR1252 - NFC Forum-Certified Reader SDK
Comprehensive SDK that features Peer-to-Peer and Card-Emulation demonstration tools for interacting with ACR1252U

100% secure transactions.
Website protected with SSL certificate.

World class payment platforms.
We do not store any bank details.

We respect your privacy.
We do not capture sensitive or private data.

Satisfaction guaranteed or refund.
We want happy clients on any purchase.

The most reliable courrier companies.
Same day shipping on orders until 3 PM.
The ACR1252U NFC ForumCertified Reader runs on 13.56 MHz contactless technology. It supports ISO 14443 Type A and B, MIFARE®, and FeliCa cards, ISO 18092compliant NFC tags, and other NFC devices. ACR1252U is capable of the three modes of NFC, namely: card reader/writer, card emulation, and peer-to-peer communication. It also has a SAM (Secure Access Module) which can be used for key diversification and mutual authentication, providing high-level security in contactless transactions.
Comprehensive SDKThe ACR1252U Comprehensive USB NFC SDK is a collection of PC/SCcompliant sample codes, for device and contactless card programming for Java, MS Visual Basic 6.0, MS Visual Basic .NET 2008, MS Visual C# .NET 2008, MS Visual C++ 6.0, and MS Visual C++ .NET. The SDK is designed to help software developers create PC-linked contactless applications, like smart posters for advertising and marketing.
Peer-to-Peer and Card Emulation CapabilityThe Smart Card and Reader Tool in this SDK includes NFC and NDEF tools to demonstrate the NFC capability of the ACR1252U. The peer-to-peer function enables the ACR1252U to communicate with other NFC-enabled devices. The card emulation function makes the NFC device capable of behaving exactly like a standard contactless card.
Kit Contents:
• 1 x ACR1252U NFC Forum Certified Smart Card Reader
• 5 x Mifare 1K Cards
• 5 x ACOS3 Contactless Cards
• 1 x ACOS6-SAM Secure Access Module Cards
• 1 x CD-ROM with Reference Manual(s), Tools and Utilities, PCSC Learning Tool, QuickView, Script Tool 4, Smart Card and Reader Tool, Includes NDEF Tool for Peer-to-Peer and Card Emulation Mode
• Sample Codes to demonstrate basic commands used to communicate with the cards and readers available in the following programming languages: Java, MS Visual Basic.NET 2008, MS Visual C#.NET 2008, MS Visual C++.NET 2008 (64-bit only), MS Visual C++ 6.0 (32-bit only)
• SDK Operating System Support: Windows® 7, Windows® 8.1 and Windows® 10
No customer reviews for the moment.