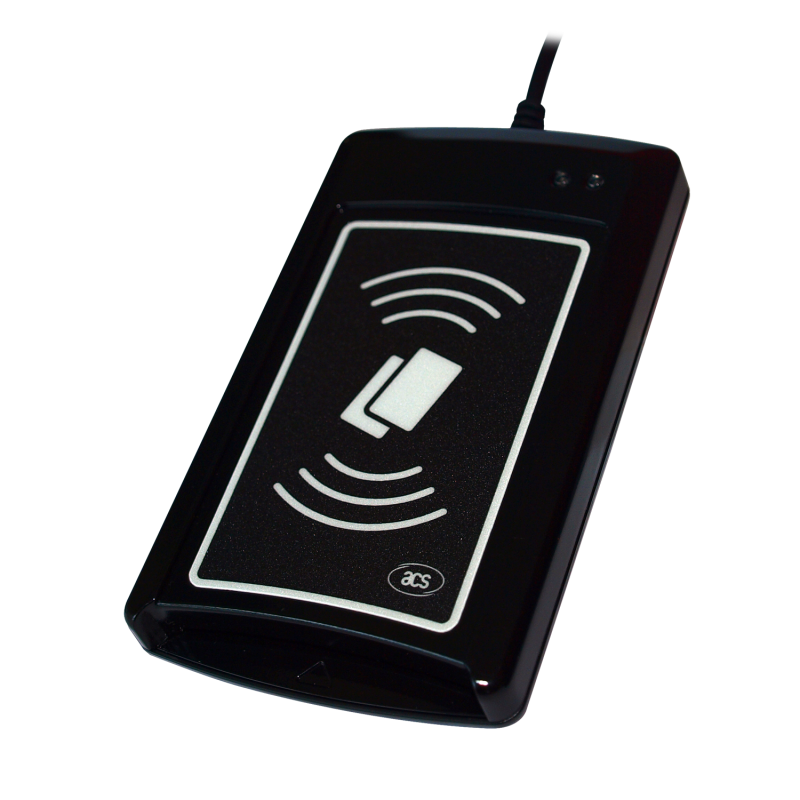  
ACR1281U-C1 - DualBoost II USB Dual Interface Reader
Dual-interface USB reader with a built-in Secure Access Module (SAM) slot

100% secure transactions.
Website protected with SSL certificate.

World class payment platforms.
We do not store any bank details.

We respect your privacy.
We do not capture sensitive or private data.

Satisfaction guaranteed or refund.
We want happy clients on any purchase.

The most reliable courrier companies.
Same day shipping on orders until 3 PM.
ACR1281U-C1 DualBoost II is the second generation of ACSs ACR128 DualBoost Reader. It is a dual interface reader that can access any contact and contactless smart cards following the ISO 7816 and ISO 14443 standards. ACR1281U-C1 DualBoost II enables one to integrate conventionally separate and independent applications for contact and contactless technologies into one device and one card. It can be used for online transactions to settle payments securely using credit cards, and it can also be used for topping up contactless cards in automated fare collection systems. It provides the perfect complement to the all-in-one card concept that combines many kinds of smart card applications in just a single card.
The DualBoost Series has PC/SC compliance for both contact and contactless interfaces. It makes use of high-speed communication for contactless cards at a maximum of 848 kbps, which makes it suitable for highly demanding applications. It also provides intelligent support for hybrid and combi cards, such that it detects a contactless card even that has been incorrectly placed in the contact card slot. Lastly, the DualBoost has a built-in SAM slot for added security in both contact and contactless applications.
With additional features such as USB firmware upgradability, contact memory card support and extended APDU support, ACR1281U-C1 DualBoost II is a highly cost-effective, powerful all-in-one device that offers convenience and flexibility to many smart card applications.
Technical Features:
• USB 2.0 Full Speed Interface
• CCID Compliance
• Read/write speed of up to 848 kbps
• Built-in antenna for contactless tag access, with card reading distance of up to 50 mm (depending on tag type)
• Supports ISO 14443 Part 4 Type A and B cards and MIFARE series
• Built-in anti-collision feature (only one tag is accessed at any time)
• Supports extended APDU (max. 64 kbytes) Supports ISO 7816 Class A, B and C (5 V, 3V and 1.8 V) contact cards
• Supports CAC (Common Access Card)
• Supports PIV (Personal Identity Verification Card)
• Supports microprocessor cards with T=0 or T=1 protocol
• Supports memory cards
• ISO 7816 compliant SAM slot
• Supports PC/SC
• Supports CT-API (through wrapper on top of PC/SC)
• Two user-controllable LEDs
• User-controllable buzzer
• USB Firmware Upgradability
No customer reviews for the moment.