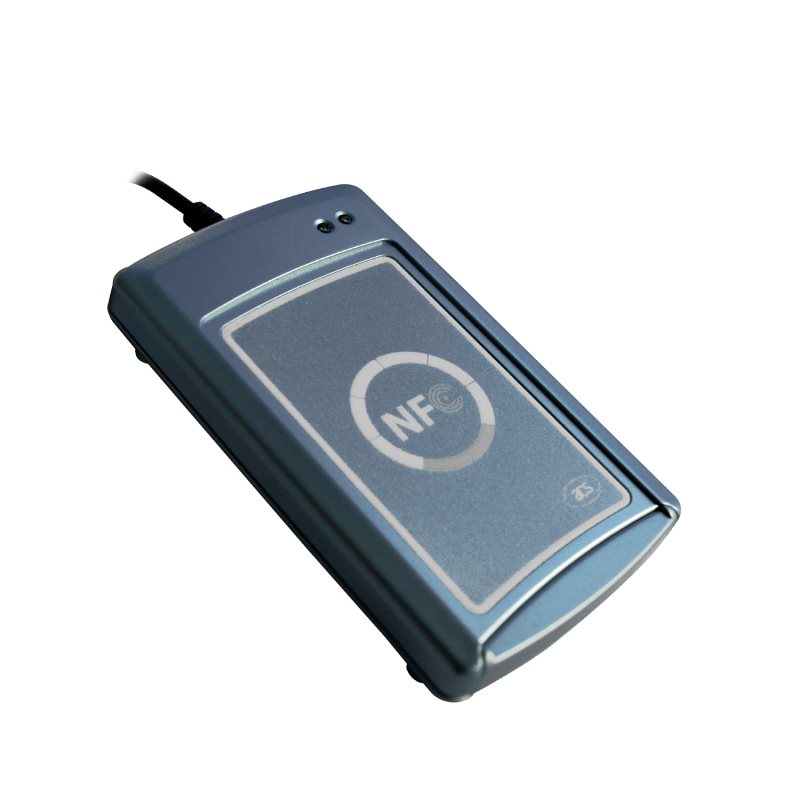  
ACR122S - Serial NFC Reader
NFC Contactless Smart Card Reader with serial interface

100% secure transactions.
Website protected with SSL certificate.

World class payment platforms.
We do not store any bank details.

We respect your privacy.
We do not capture sensitive or private data.

Satisfaction guaranteed or refund.
We want happy clients on any purchase.

The most reliable courrier companies.
Same day shipping on orders until 3 PM.
The ACR122S NFC Contactless Smart Card Reader is the serial interface reader in the ACR122 family developed based on the 13.56 MHz Contactless (RFID) Technology and compliant with the ISO/IEC 18092 Standard for Near Field Communication (NFC). It supports MIFARE®, ISO 14443 Type A and B, and all four types of NFC tags.
ACR122S is a plug-and-play device which does not require any driver installation. It comes with a built-in ISO 7816 SAM slot for enhanced security, plus a buzzer and two LEDs for rich user interaction. ACR122S can also read and write faster and more efficiently by making use of up to 424 Kbps for tag access. The proximity operating distance of ACR122S is up to 5 cm, depending on the type of tag used.
Typical applications of the ACR122S reader include e-payment, e-ticketing for events and mass transit, toll road fare collection, and network authentication.
Technical Features:
• Serial RS-232 Interface with maximum Baud Rate = 115200 bps, 8-N-1
• USB interface for power supply
• CCID-like fram format (Binary format)
• Read/Write speed of up to 424 kbps
• Built-in antenna for contactless tag access, with card reading distance of up to 50 mm (depending on tag type)
• Supports ISO 14443 Type A and B, MIFARE, FeliCa, and all 4 types of NFC (ISO/IEC 18092) tags
• Built-in anti-collision feature (only one tag is accessed at any time)
• ISO 7816-compliant SAM slot
• Two user-controllable LEDs
• User-controllable buzzer
No customer reviews for the moment.